Hello Readers,
There is a new challenge at MHKDesigns! As usual 'Anything Goes' as long as it relates to the inspiration colors or the photo. So here is my card for today, enjoy..
Using the same image multiple times in different orientations and sizes
will create a sense all the peppers are unique.
____________________________________________________
Check out all of MHKDesigns digital stamps
where Vintage Images Meet Modern Sentiments.
introduces a new monthly challenge
for July/August. Here is your inspiration.
The prize for this challenge includes:
_________________________________________
Link up at MHKDesigns for your chance to win these products! Make sure to review our challenge rules before you do to make sure you'll be eligible for the prize, first, though!
The gray outline around the peppers is actually very easy to achieve
and the visual impact is awesome.
The sentiment was broken up then resized and colored for an
individual look. There is so much you can do with MHKDesigns Digis.
Challenges Entered:
Cards in Envy: Heat Wave
Here at home we are having a heatwave. This heatwave consists of heat and humidity with a heat index of over 100! For some, this is just another day, but for me all I have to say: 'It is hot, hot, hot!' This card couldn't be more perfect for this time of year.
Thank you so much for stopping by and I hope to see you at MHKDesigns blog and join us at our monthly challenge. No worries if you don't have any MHKDesign product yet, you can still play along.
We will see you this month and looking forward to see what you create. Until then, take care.
Products Used: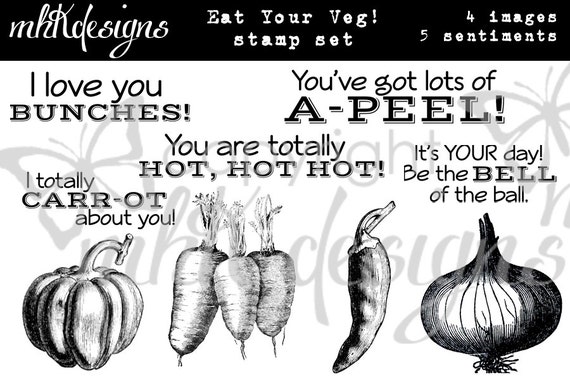 Eat Your Veg!