Hello, and welcome back to TheGrandStampede!
It is that time again at
MHK Designs
. Our new April release is out and I am here to share the new '
Funky Flowers
' digi stamp set. Here is my card for today, enjoy!
Isn't this the most awesome set? The whimsy of the flowers is so magical and mysterious.
The leaves are black to keep it as simple as possible. The color on the flowers were all done using colored pencils.
By far my favorite are the distressed edges fading into the card. Again, I feel it adds to its magic and mystery.
____________________________________________________
Introducing...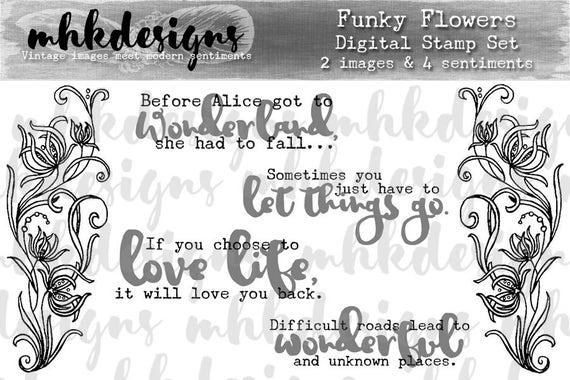 And now, let's talk about how to get this new set OR the entire release for FREE! Here's what you'll need to do...
Mynn will be choosing comments randomly from all these places after the release is over, and the authors of those comments will be our winners! So, the best way to win is to comment every day!
____________________________________________________
Upon looking more closely at this card I noticed the gray 'wonderful' was not going to cut it.
The focal point of the sentiment needed color. So out with my pencils, carefully, so carefully not to escape the lines. I wanted to work on an ombre scheme to match these funky flowers.
MHKDesigners Blog List
Thanks for stopping by today, friends! We will be back in a couple of days with another *NEW* set to share from the MHKDesigns Etsy shop! Don't forget to get all your commenting in for your chance to WIN, and please do join our monthly challenge, as well! Until next time, happy stamping!

All the Best,