Hello Crafty Friends,
Welcome again to our August release from
MHKDesigns
! For today we are featuring our 'Pet Puns' stamp
set. This set is uplifting and humorous. It is sure to make anyone's day a bit brighter.
Here is my card for today, enjoy!
I used two images and a sentiment from this set.
I think it hilarious that the fish look so worried while the cat is thinking of a way to pounce
_____________________________________
All new eclectic stamps and sentiments
Pet Puns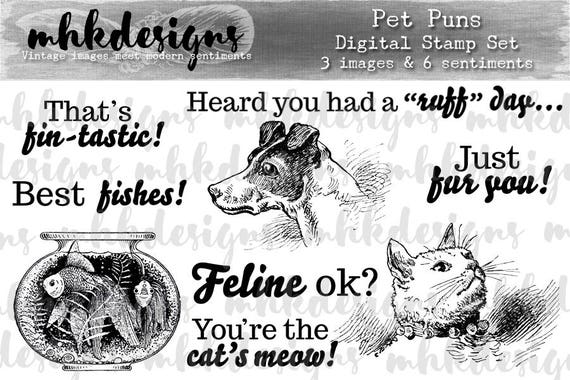 And now, let's talk about how to get this new set OR the entire release for FREE! Here's what you'll need to do...
Comment on MHKDesigns blog.
Comment on each DT member's blog.
Mynn will be choosing comments randomly from all these places after the release is over, and the authors of those comments will be our winners! So, the best way to win is to comment every day!
MHKDesigners Blog List
Tasha RJ
____________________________
At first, I wasn't going to distress the edges but I felt it needed a border.
I love those cat's eyes with a look of determination on his face.
The fish bowl was colored using colored pencils. The same goes with the cat's eyes.
Thanks for stopping by today, friends! We will be back in a couple of days with another *NEW* set to share from the MHKDesigns Etsy shop! Don't forget to get all your comments in for your chance to WIN, and please do join our monthly challenge, as well! Until then, happy stamping!

All the Best,