Hello Everyone,
I saw this idea on Pinterest and thought it would be perfect for my husband on Father's Day. The 'drawers' are so creative!

Layers of tools, bits, and parts plus a 'best dad ever' message seem to be the essence of my husband. I bought him a sign that says 'don't even LOOK at these tools!'. I thought it was funny because it is ME that is always rummaging around his tool bench.
On the back of the cardbox is a stamp from Stamppeddler that features a well-organized pegboard. This is a partial image from a larger stamp (shown below). Perfect fit for my toolbox theme.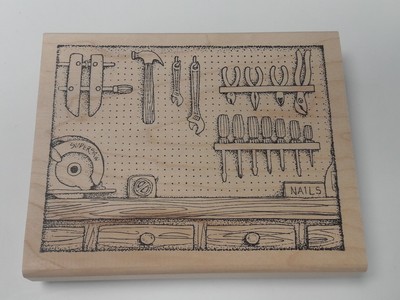 The entire image of the stamp.
Stamppeddler is selling this background stamp and bundling it with four charms!
AND free shipping.


These are the flaps on each side of the toolbox. It is hard to see but a background on the 'I love you' sentiment is light stamped with a 'blah, blah, blah' image. We say I love you to our teenagers every day and some days I think all they hear is blah, blah, blah. That is why we tell them this multiple times a day.
Challenges Entered:
Thank you so much for stopping by and I do appreciate you taking time out of your busy day to spend time with me. Lots of good crafting vibes headed your way. I hope you all have a fantastic day and please stay safe and healthy.