Hello Crafty Friends,
Hello again, and welcome to our July release set at
MHKDesigns
! Today is the last day to comment in order to win prizes. This next set, Sit a Bit, is full of encouraging sentiments and vintage images which are sure to please. Here is my card for today, enjoy!
Encouraging a friend might be all it takes to
'Take it EASY'.
This pretty and relaxing color of the wallpaper is calm and serene-
Plus it adds some ground for the chairs to sit.
____________________________________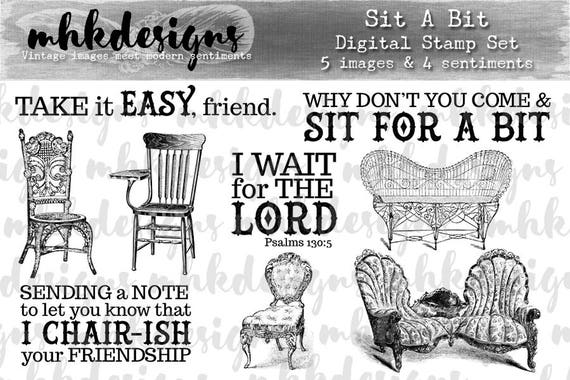 And now, let's talk about how to get this new set OR the entire release for FREE! Here's what you'll need to do...
Mynn will be choosing comments randomly from all these places after the release is over, and the authors of those comments will be our winners! So, the best way to win is to comment every day!
____________________________________________________
I didn't want something too frilly for my border so
I used this more contemporary punch.
Left/Below: The detail on the chair reminded me of wicker furniture- very delicate and swirly Right/Bottom: The coordinating flower looks so well against the wallpaper and green color at the bottom of the card.
MHKDesigners Blog List
Thanks for stopping by today, friends! I do hope you enjoyed our April release. Remember you get this set and much more from the MHKDesigns Etsy shop! Don't forget to get all your comments in for your chance to WIN this entire release! Also, please do join our monthly challenge, we enjoy how you put your digis to work! Thank you again, everyone and happy stamping!