Hello Readers,
I have been meaning to submit this card for a long time but well... life happens. No better time then the present!! For today I am submitting this card for Virginia's View Challenge: Theme- Layers.
Well here is my 'Bottom of the Sea' card!! I hope you like it as much as I liked making it.
The sand dollar gives the card texture as
does the dry embossed sentiment
The sentiment is part of a bigger embossing folder
All I did was tear out the 'thanks'. The tear creates yet another
form of texture.
The playful shells and sea stars contrast beautifully with
the abstract sponged sea horses.
Detailed photo showing the complexity of this card.
However it all works cohesively because of the soft color and
neutral color palette.
From the soft colors of the background to the sand paper sand dollar (say that three times fast). This card screams dimension and layers yet the soft color palette seems pleasing to the eye as it smoothly moves around the composition. There is a lot going on here, so I added a teal border in the background to anchor your eye which lets everything work together!!
Okay, ready... This is how I did it!
Cut and scored my white CS base to 4.25" x 5.5"
Placed my stencil over the card stock and sponged over it using teal, mauve, and lavender.
Stamped some dark brown shells directly on the CS base.
Added a teal border to anchor all the objects that will be placed on it later.
Stamped the other shells on a separate sheet of paper. Fussy cut then added it to the card.
Die cut sea-stars and sea horses (see below) then sponged the edges. added it to the card.
Using a very fine grit sand paper I punched out the sand dollar, then distressed it a brown color. Set aside.
Inked up the embossing folder then dry embossed; transferring the ink onto the paper.
Carefully tore out the 'Thanks' and added it to the card.
Wrapped salmon colored twine around the card a few times then tied it in a bow then adhered the sand-dollar.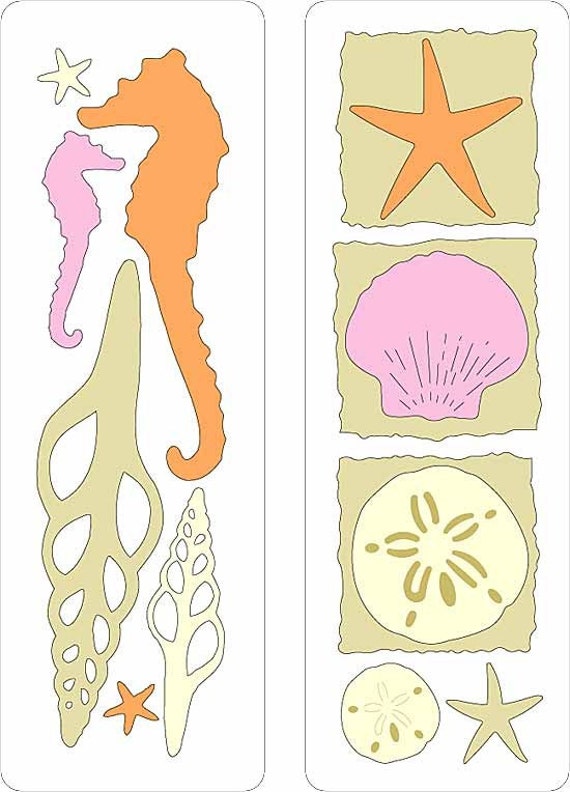 Die cut by Cuttlebug
Seashells and Seahorses
I actually ended up giving this card away to a friend.. She adores sea horses so I couldn't resist giving it to someone who would enjoy it..
A little fact about me, when I was a little girl my sister won some sea horses at the local fair. She placed them down where I proceeded to gulp them down. Apparently they were very small but it was big enough to give my parents a fright.
Alright it is time for bed but just wanted to share this with you today.. I hope everyone has a great day and thank you so much for stopping by! Don't forget to leave a comment good, great, or otherwise. See you soon!!
All the best,
Shawna