Hello Again Readers!
Here we are at day two of the June release at MHKDesigns! This stamp set we are debuting today is probably my favorite from the release. The set is called 'Open Bloom' and I think you will know why I enjoy it so much. Here is my card for today, enjoy.
I printed out the flower at 50% grayscale. Allowing the sentiment to
still stand out among the large image.
And now, let's talk about how to get this new set OR the entire release for FREE! Here's what you'll need to do...

1. Comment on the MHKDesigns blog.
2. Comment on each DT member's blog.
3. Join our MHKDesigners and Friends Facebook group and comment there.

Mynn will be choosing comments randomly from all these places after the release is over, and the authors of those comments will be our winners! So, the best way to win is to comment every day!

Asha | Cohenna | Donna | Janie | Judy | Jerrie | Jessica | Lilian
Michele | Mynn | NanaConnie | Rocky | Sathya | ---->Shawna<----
This card was laid out using photo editing software.
This was a single printout was colored, distressed, and dogeared.
Still crisp white with a bit of vintage flare.
I absolutely love this sentiment because it is so true!
Detail of the colored flower and sentiment.
Thanks for stopping by today, friends! We will be back tomorrow with another *NEW* set to share from the
MHKDesigns Etsy shop
! Don't forget to get all your commenting in for your chance to WIN, and please do join
our monthly challenge
, as well! Until tomorrow, happy stamping!

All the Best,
Supplies Used: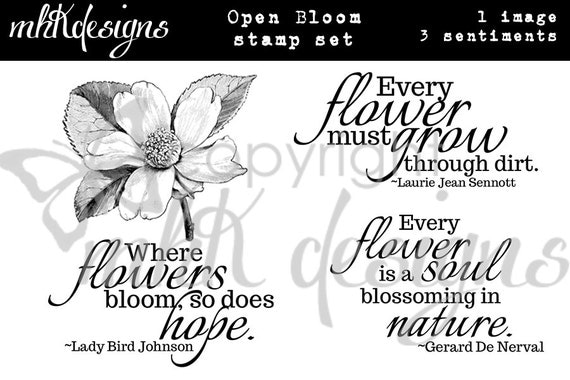 Open Bloom Stamp Set